What is Dora?
Agatta When calling a specific tile (pie) that leads to the addition of scoring points , it is called dora .
When Agatta, tile hand or Ron in the Pi Dora if they contain,
Although 1 につ is added per one sheet , since it is not established as a role / agar role ,
Because it is the same as having no role with just having a dora ,
You can not agar with dora alone .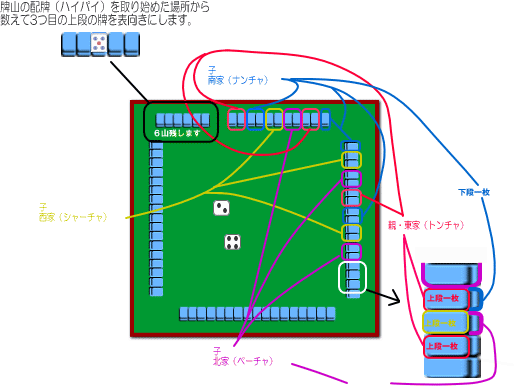 How to determine Dora
From the place where I started taking the tile of Huangshan (Hi Pai)
Count up the third top tile count.
This is called a dora display tile,
Dora is the tile of the next place of the Dora display tile is Dora.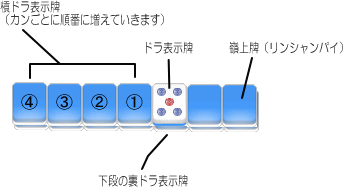 ◆ In the case of Dora Display Tiles


Dora


Dora


Dora

Dora

Dora


Dora


Dora


Dora


Dora


Dora
How to determine Dora
◆ Dora
Normal dora
◆ Back dora
Dora in the lower row of ordinary dora.
Only in the case of Agar under honesty (reach)
This back dora is applied. It is a reward that I tried my best trying to reach the truth.
◆ 槓 ド ラ
When 槓 (カ ン) was done,
When drawing Ling Yong tile (Lincyan pie)
I reveal the tile next to Dora (who is not the last tail) face up,
I treat this as a dora. At the same time, the backstage at the bottom of 槓
Applicable only when agar is to be honest (reach).
◆ back
で Take the stance (reach) with the dra in the lower row of the dora
Applicable only in Agar .