What is Wang Ting (Wanpai) · Undersea tile (Hi-tei)?
Distribution (Hi Pai) , Rikai (Lee Pai) is over,
After the order from the Paiyama, taking the tiles Agali but I go with the aim of,
If no one gets aga, I will not take the last piece of Mt.
In Mahjong, it is always decided to leave 14 tiles.
So, if you draw the last 15 tiles, nobody needs agara
Therefore , one station will be closed, and it will be a streaming station (Ryukyoku) .
We call 14 sheets left in this place as Wang Pai .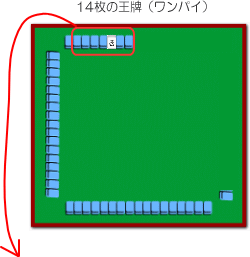 What is submarine tile (high-tei)
I call the last tile that can make a Tsumoru at that station as a submarine tile (Hi-Tei High).