East Tower (Tonba) · South County (Namba)
On the previous page, in Mahjong, the authority of parents go around two laps,
I ended Hanchan (Hanchan) and explained how the game ends.
In Mahjong, the first parent is reading "live" as it makes one lap.
The place where the first parent makes one lap is called Higashihabara (dragonfly)
We call the place of the parents' 2nd week South (Namba) .
Thus, quite continued parents Agali half Zhuang (Hanchan) is
When it is not over, etc., not "still, 1st lap?"
There is sometimes saying "Do you still enter the East (Dongba)? Nanba (Namba)".
Let 's keep in mind that the field is greatly related to the official tile (yakuhai).
When you

collect 3 or 4 pieces at the East Bridge (Tomba) , it becomes a role of 1.
At the same time , if you collect 3 or 4 pieces in Namba (Namba) ,
it becomes a role of 1.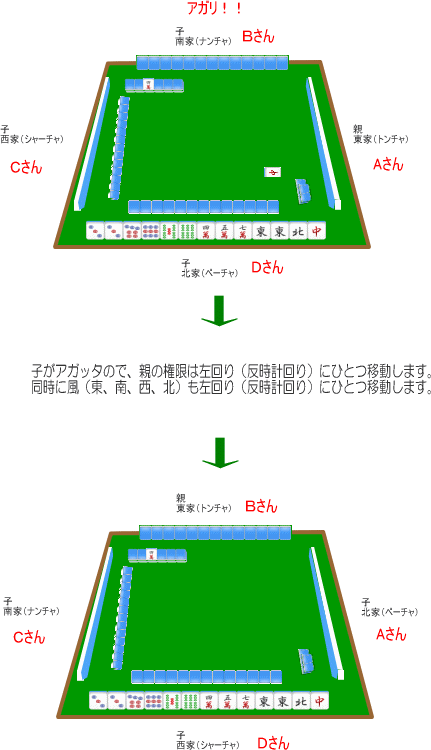 Let's also remember "your own wind". Please see the figure above.
People with parent authority will definitely become Dong-ya (Toncha).
Let's remember this is called wind.
As I explained in the previous section, once one station is over, I advance to the next game,
If the conditions are satisfied, this wind moves with the parent's authority.
If you collect 3 or 4 winds of your own, it will become a role of 1. In the above example,
Mr. D, Mr.

C gathers 3 or 4 pieces of
Mr. A

,
It means that it will become a role of 1.